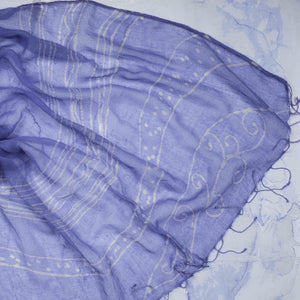 Waves Blue Stole
A serene scarf with elegant wave patterns carved out in the entire scarf with in batik . Batik is a wax resist technique where the patterns are resisted with wax and then dyed which results in light colored patterns against a dark background. This scarf is made by a batik artisan in Ahmedabad who has been practicing this art since many generations. 
The scarf can be your perfect summer companion and a unique handcrafted gift for your loved ones.  
Wash and Care: Handwash Cold with like colors. 
Material: Hand Spun Handwoven fine Cotton  
Measurement: 80 x 200 CMS